The Natur Löv Blush X Geometrisk Grey
The Natur is designed in Australia and inspired by Scandinavian aesthetics. Our original and one of the best-selling designs.
Little Wiwa mats are crafted from non-toxic, sustainable materials. These plush mats are reversible, featuring two designs and colours to match your mood and capture that urban or playful feel at your choice. They are functional for the entire family, the thick cushioning as a safety guard for the bubs to toddle and the sleek design as a centrepiece for the parents. From a nappy-change station for bubs to a nap station for the parents, these mats transform themselves to suit your needs. 

The Natur - Blush mats come in both the Generös and the Cirkulär sizes. 
DIMENSIONS:
Generös: 200cm (L) x 140cm (W) x 15mm thick (4.2kg)

MATERIAL: Non toxic TPU Foam
Designed in Australia

BONUS FEATURE: All Little Wiwa play mats come rolled up with 2 Velcro straps in the packaging - these are reusable and sustainable! Handy for when you have to roll them up again for cleaning/ to take them outdoors/ playdates. So be sure not to cut them off ;) 
Customer Reviews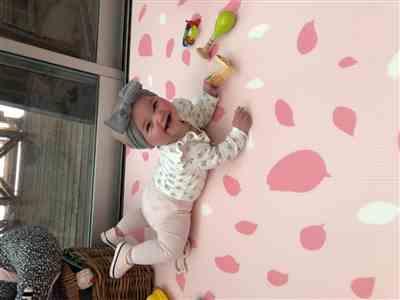 09/01/2019
We love our play matt
It's so great our 8 month loves it so soft for when she is rolling and crawling around and when there are any nasty spills it's so easy to clean
Shelly B.
Australia
11/14/2019
Best baby item we have bought
Wish I bought one sooner, our baby is 4 months old and it's made nappy free time a lot easier. Keen to take this outside in the warmer months too.
Lucy W.
Australia
10/22/2019
Worth Buying
For the price is the best mat ever thanks.
Calvin T.
New Zealand
10/15/2019
Beautiful, soft and baby friendly
Our mat arrived today- it looks just like the pictures! It's super comfy, I sat on it with our twelve week old for tummy time and I'd happily sit on it all day. She loved it too! Easy to clean baby dribble off too!
Amy
Australia
09/11/2019
Love it
It's so nice an soft for my little one when we have only wooden floors it is also used like giant change Matt N can have nappy free time
Philippa K.
New Zealand
06/13/2019
Love this mat so much! My little girl happily rolls over without banging her head now. It's super soft, easy to clean and blends in well with our lounge room. It's a bonus being double sided too.
05/20/2019
Delivery was on time, good communication and good product quality.
03/25/2019
I love my WiWa mat, its pattern and colours are gorgeous and so soft for my little one to play on! Highly recommend them, I would love a second one ASAP!
03/04/2019
Love the mat - one of our best purchases for our bub! The matrial is so soft on the skin and yet it gives a lot of support when bub takes a tumble as she's just started to crawl around.
02/26/2019
So please I made the purchase of this mat for my Grandies... soft and comfie and easy to clean... great traction for an almost crawler!
02/25/2019
Love my Little Wiwa mat! So cushioning. Even hubby fell asleep on it!
02/22/2019
Very cushioned mat with no smell and lovely colours. We love it.
02/21/2019
It's has been the best investnent for our baby
02/21/2019
Excellent quality, fast shipping. Very happy with my purchase and would recommend
01/09/2019
My mum bought it for my daughter (her granddaughter) Evie and I am so pleased with it -it's great
12/24/2018
I did my research. Wanted a non toxic, comfortable mat for my baby girl... very happy.. she loves this mat.. Plays so much happier and longer.. Love it, awesome. Highly recommend Much more affordable than some other Mats and I can't imagine them to be better. Thank you.
12/16/2018
Amazing product. Arrived quickly. This is the third mat we've bought.
12/14/2018
Our baby girl absolutely loves rolling around on it. So soft and super easy to keep clean. Highly recommend
12/10/2018
Best mat ever I could easily felt to sleep on it. Actually my husband has done it already. It is really good matrial and awesome design. Loving it so much